Books and Resources for Learning Improv
Click on any book to order or for more information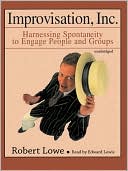 Improvisation, Inc.
This unique book enables communicators of all kinds to think on their feet, even when they are taken by surprise. It is the ideal book for corporate trainers, speakers, and teachers who do not want to be caught in a pinch.
Improv Yourself
The right education and the right experience will only get you so far in the fast-paced world of business. Because business can change faster than you can keep up, you also need the ability to think on your feet and turn on a dime. You may not know it, but the skill you need to achieve in business is the same ability comedians have in spades-the skill of improv.It makes sense; dealing with clients and colleagues requires the ability to quickly come up with solutions to unforeseen problems. That's the art of improv. And that's what you'll learn from Joseph Keefe, founder of Second City Communications and sage potentate of funny business. In Improv Yourself, he'll show you how to use humor and spontaneity to improve your business performance.In fact, you already have improv skills you use every day-in meetings, sales calls, brainstorming sessions, or even just while hanging around the water cooler. But you probably didn't know that by mastering your improv skills you can become more productive and dynamic professionally, have more fun and rewarding business interactions, and achieve at a higher level than ever before.Improv Yourself features exercises and games specially designed to refine your "improvability"-and make you more comfortable with the process of creation, the skill of spontaneity, and the expert use of humor. You'll become a more innovative business thinker and have more fun at work and at home. You'll also learn the fundamentals of improvisation and understand improv theory as it relates to business.With the skills you'll learn from Improv Yourself, you will improve your ability to * Think and act on your feet* Quickly respond to changing circumstances* Generate new business ideas* Handle a crisis with speed and flexibility* Take risks and reap the rewards* Tap into your sense of humor when you need it mostWith practice, you too can nurture your improvisational skills and develop lightning-fast problem-solving techniques. You'll grow the skills you need while improving your business and personal life. Best of all, Improv Yourself lets you try out your new material before you find yourself in front of a fickle throng of business suits.
Improv Comedy
This is improv comedy from top to bottom and from inside out. If you want to form an improv comedy workshop, sharpen your improvisational acting skills in a group setting, or simply study the subject on your own, Andy's well-thought-out text and invaluable exercises will put you on the right track. Improv Comedy is also a useful text for writers or anyone else who wishes to study the basics of controlled spontaneity as a path to believable humor.